Doing business in Singapore course days 2 and 3.
Day 2 after a long night, we were ready to get our day started. The night prior, myself and a few other students decided to check out the nightlife and engage in some binge drinking with the locals aka other tourists.
We spent a night out in the popular
Clarke Quay
location that was filled with tourist and Singaporeans looking for a great time out.
Just one of many many trays
Side note: We spent 2x the amount of money because of the outrageous prices. I mean down right outrageous. Imagine spending 20 USD on a well rum and coke. And still up until this day, I don't know whether alcohol content in Singapore is less or if we were getting screwed over. Probably the single most time I ever had 10+ shots of yager and was still coherent, but I digress.
After breakfast we got the opportunity to go checkout parliament.
At parliament our guide gave us a tour of the building and explained to us how parliament ran. The majority party is the People's action party otherwise known as the PAP.
We then got to go sit in the visitor section where invited guests could come watch parliament in action. That sections was called "the house of strangers." One thing I found interesting was that in this section whenever one wanted to go to the bathroom, he or she would have to bow on entry or exit to the speaker.
After we left the parliament, we made our way to the housing development board otherwise known as the UDB. Once there, we toured the UDB's building which had replica living spaces on one of their floors. So we got a first hand view of the relative size of actual developments.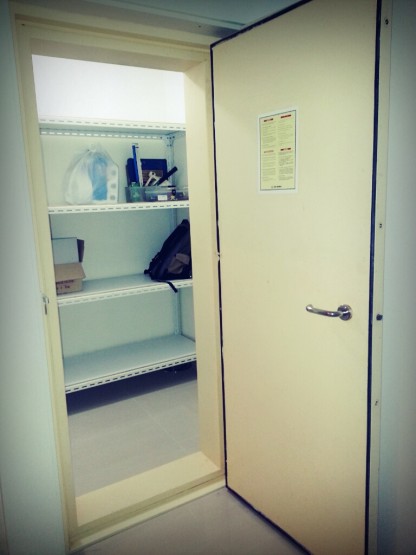 Yes, a bomb shelter in each unit photo:bobostehpanie
One thing that stood out was that every apartment had a bomb shelter. I guess this comes in handy if there is a ever a nuclear attack in Singapore?
Interesting fact:
On an island with limited land, the UDB has procured land in order to provide affordable living for the people of Singapore. Apparently the UDB has provided "80 percent of the population" with housing.
Interesting fact 2:
If you are not a multimillionaire in Singapore with assets to purchase private living, then you have to purchase public housing. And buying a house in Singapore is really leasing a property for 99 years, in which the property cannot be passed on to kin but be given back to the government.
Coming from the U.S. where generations of people live according to the american dream and only want to pass their belongings such as houses on down to their kids, this definitely struck me as backwards. But I am not an economist, I assume they do it because there is such limited land and a steady growth in the population.
Interesting fact 3
: You must be at least 21, cannot have private property or get rid of it within 6 months, and must form a nucleus family.pic
And no, that was not a typo. You must get married and start popping out children.
After the UDB we went to try one of the most renowned chicken places in Singapore, with a queue(long line) that went around the corner. We waited at least half an hour to try the chicken that beat out other chefs, such as Gordon Ramsey, in the world called Tian Tian Hainanese Chicken Rice. As much as I love chicken and Singaporean delicacies, I did not see the hype in the dish. It was cold, but I assume that is how it is supposed to be made.
One of the more interesting parts of the day is when we got split into two separate groups once again. Half of us went to the
food playground
while the other half of us went to the
International flavors and fragrances (IFF)
Singapore location.
At the IFF, our host was the Operations Director of IFF. I was a part of the group that went to the IFF where we learned that they are a B2B company who works in the background creating scents and specific flavors for companies such as Coke.
IFF visit
The IFF are leaders in creating flavor solutions of beverages, sweet goods, and dairy products. They also aspire to be the most innovated company in their industry by understanding consumer insights and leveraging its competitive advantages.
At the IFF we got the chance to tour the facility in our protective gear. We got the opportunity to smell chemically made rose, rum, durian, and steak.
After the IFF my group and I headed to the food playground.
It was more than just cooking food and playing around. It was a team building exercise. We were in charge of making two dishes.We had to grind ingredients down. Cook our own dinner, and present it professionally.
Fooling around trying to get the recipe down
We failed miserably.
But that was what was so great about it, we had such a good time trying to work with each other and messing up time after time until we finally got things right. It was definitely more than just a cooking exercises and became one of my highlights to the course. I would definitely recommend checking it out if you are ever in Singapore.
Day 3 commences and we as a group are on our way to the Supreme Court which is located on the next street to that of the Parliament building.
The building's infrastructure was absolutely beautiful. After we got through security at the entrance, we were told not to take any photos otherwise I'd have taken many shots of inside the building.
It had escalators in the center leading to all the floors that had courtrooms on each side. There were screens on the various floors that would also report to attorneys when their case would start and what court room to head too. The system was called the "Electronic Queue Management System "(EQMS).The top of the building was indeed unique for the fact the top was that of a dish shape. Our guide constantly called it the "UFO" that landed on top of the building.
Our guide also explained to us "caning" which become the popular topic of the day.
Yes in 2014, there are still countries who will cane you as punishment. And Singapore is one of those countries. Apparently only men will be caned and women would only serve time.
photo : T-Nation.com
And that there were professional caners who took their jobs seriously.
Interesting fact 4:
If a criminal who was found guilty passed out due to pain, then they would be given a break until he awoke then continue his punishment.
After the drawn-out conversations of caning, we made our way up to the
Marina Bay City gallery.
We made our way their via the country's rail system, which was surprisingly not too overcrowded.
After a light walk through downtown, we arrived at the marina bay. We met up with our guide who gave us a brief history of the bay and how it has come into existence. I had no clue that we were standing on reclaimed land until informed by our guide.
Interesting fact 5:
Apparently many years ago, the land that we were standing on was nothing but sea and that the government made the decision to create more land since Singapore was at the moment a very small island. So they imported sand and dirt from the Middle East and allowed the dirt to harden which took a minimum of 20 years before building property on top of it.
Right by the bay, there was much noise and celebration as the locals prepared for New Year eve festivities and rehearsed for the show that night. Lastly our guide spoke to us about the Olympic walk, which was right outside of the gallery. Each tree on the walk was dedicated to a country that participated in the only Olympics held in Singapore.
Olympic walk
When the tour concluded, we as a group made our way through Marina bay sands, and off to the
Gardens by the Bay
. The Marina Bay Sands was such a lavish building with name brand stores inside. From the top fashion stores like bvlgari, Gucci, Louis Vuitton, etc.
Places that I dare not enter without being prepared to sacrifice my future children's happiness.
We as a group made it through and entered the fascinating architecture of the Gardens by the Bay.
Inside botanical garden
The strange shape of the gardens by the bay ceiling
I can not quite explain the shape of the building, but it looked like a humpback whale surfacing for air, and getting stuck out of water. A very cool design. We spent the next hour or so looking at beautiful flowers, plants, trees, indoor landscape, and the nation's tallest indoor water fall.
Fast forward to the new years eve party at Siloso Beach.
It was absolutely incredible. Live DJs, rowdy crowds, and many stages for visitors. At that point I did not feel as if I was still in Singapore since there was so many tourists. Every other person I talked too was Australian or German. It was quite a scene to see the new years eve fireworks show outside of the United States for once. As for as New Year Eve celebrations, It was definitely one for the books. It was a great night to spend getting incoherent with an awesome group of students and new friends.
Tres leches
Lessons learned
Reflecting on day two, Some things that bothered me was how the UDB effectively controlled birth rate by forcing families out of homeowners. I also disagreed with the fact that houses cannot actually be bought, but leased in the long term of 99 years. The redevelopment programs on the other hand were interesting and respectable since they involved redeveloping old areas within the country. I learned a lot about parliament and how it is different from the United States where our government is more of a semicircular arena compared to the rectangular shape of Singapore's. Our government is also more outspoken, loud, and argumentative compared to that of Singapore's. It seems that there operation benefited their country compared to the United States, but then again the United States has a larger population with more committees and people's rights movements who want to benefit themselves over the country. The food play ground was definitely my favorite part, where I actually learned that teamwork was very key to get the ingredients right. In order to cook the dish well, we all had our part to play in the bigger picture. It took a little bit of arguing, but we worked as a group to get the job done.
Reflecting on the day three, we did a lot of interesting things. The Supreme Court was rather interesting in their forms of punishment whether it was capital punishment or caning. The caning was a very popular subject, especially when the guide colorfully describe a criminal as "a man who just raped a little girl," which made you stop and think about what crime should fit the punishment. The City Gallery also clarified how the land by the bay was being used and set aside for the future. The Gardens by the bay and the Siloso beach party were really just fun and not much could be learned at those two events accept to bring extra clothes to a beach party.
I repeat,
always bring extra clothes
to a beach party.